Achieve "WOW" Success With Highly Unique Marketing Strategies
Marketing Presentations from Robert Smith, The Wizard of WOW
This text will be replaced


Robert Curtis Smith has presented more than 400 sold out marketing conferences and seminars around the world, helping businesses in more than 200 major industries improve their marketing skills and achieve "WOW" success by using out of the box marketing strategies, concepts and ideas.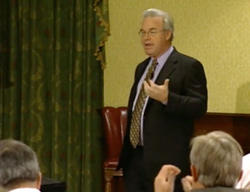 When you attend one of Robert's presentations, you'll discover how to develop highly unique and extremely powerful marketing programs that create a value distinction for your customers. Most importantly, you will learn how to integrate your "WOW Factor" into mobile, Internet, social media, advertising, public relations and direct marketing. With more than 3,500 hours of speaking experience, Robert brings "The Power of WOW" to all his presentations!
In his new speech "Marketing in the New Economy" Robert addresses the daunting issue of marketing and dynamic business growth in this economy. He shows you how to maximize your share of the business that's out there and develop the compelling "WOW" message to get your customers' attention and cause them to take action.
ROBERT  SMITH'S POWERFUL PRESENTATIONS ARE IDEAL FOR:
Marketing Conferences
Conventions and Expos
Trade Shows
Corporate Events
Sales Meetings
Association Meetings
"If you want to make an impression, hire Robert Smith. He's the best kept secret in America. His presentation was amazing and his delivery to our conference was impeccable."
Rick Radidz, CEO of Xiosoft
Partial CLient List
International Women's Entrepreneur Conference
National Speakers Association
American Advertising Federation
Small Business Administration National Conference
International Fly Fishing Association
Pennsylvania Small Business Conference
International Conference on Innovation
Colorado State Small Business Conference
The Leading Edge National Conference
The Yellow Pages Association Conference
Tri-State National Business Conference
The Capital Factor 2007 & 2008
Colorado Small Business Person of the Year
National Society of Accountants
National Society of Professional Engineers
National Association of Financial Planners
Christian Booksellers Association
Midwest Small Business Conference
Key Bank Regional Conference
New York Small Business Conference
Tennessee Small Business State Conference
Florida Small Business State Conference
DE Frey International Convention
National Petroleum Council Convention
The Construction Specifications Institute
Interested in Hiring Robert?
Already Hired Robert Smith?
Robert Smith will make your next event a success!
Call (719) 633-2913 or contact Robert online for fees and availability.